The company
With a broad base and globally positioned, EROWA today serves customers in various industries such as automotive, aerospace, electronics and medical technology. Specialized contract manufacturers and large tool and mold makers in Europe, the U.S. and Asia benefit from EROWA's years of experience and "Everything from one source" consulting services.
450 employees worldwide, a substantial part in research and development in Switzerland, continuously drive the EROWA FMC philosophy further. In close cooperation with customers and machine manufacturers, solutions are developed that always provide that slight extra touch of benefits over the expected:
EROWA – more than you expect.

History
EROWA AG, founded in 1970 and thus successfully in business already for 45 years, continues to strive for new possibilities to increase productivity in manufacturing. This applies to the enterprise itself, but especially to its customers and users who achieve substantial competitive advantages with the EROWA FMC philosophy.
Already in 1987, it was recognized that automation of small series and individual parts will be one of the keys to success. Since then, the "Flexible Manufacturing Concept" (FMC) has been continuously further developed and implemented.

Today
Today, as the expression of "Industry 4.0" is on everyone's lips, the expert notices that the introduction of the EROWA FMC concept more than 25 years ago anticipated the main demands of this (oh so) new technology:
 
1985: The interface between the real and the virtual world is defined. This is made sure by the well-known tooling systems with their proverbial as well as stable precision.
1986: Presetting the workpieces outside the machine determines the starting point for machining in a highly efficient manner. Since the early 1990s, the wireless RFID detection of workpiece carriers ensures that the operator knows at any time where each job is in the manufacturing process. This information is collected and processed exactly where the data is produced, in the workshop, at the machine. So it is always of practical relevance.
1987: The handling facilities benefit from the standardization of the workpiece carriers. No matter what kind of workpieces is to be loaded onto the machine, the interface to grasp is defined. With largely built-in intelligence, EROWA robots ensure already at the start of development that the envisaged machining processes run reliably.
1990: The process control system is supported by all these aforementioned prerequisites. The consistency of the data, as well as the ability to capture results directly from the source and to also feed them to higher-level systems, correspond to the Industry 4.0 standards – and they have been doing this for four generations of software.
Get In Contact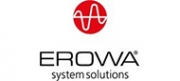 EROWA AG
Knutwilerstrasse 3
CH-6233 Bueron
Switzerland
+41 (0)41 935 11 11
Justin Hulst
Head of Marketing Services
marketing@erowa.com
EUnited - European Engineering Industries Association,
BluePoint Building, Boulevard A. Reyers 80, , 1030 Brussels, Belgium, +32 27 06 84 21
Transparency Register number: 0289344948-82
© 2022 Eunited aisbl, Bruxelles