Robotics News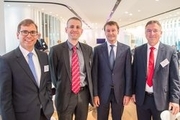 June 2018 | Robotics
AI and digital transformation of industry in Europe at the CEO Dialogue
Digital transformation to create many business opportunities in the future - EU aims at boosting European investments in AI to €20 billion by 2020....
read more

June 2018 | Robotics
automatica beats all records again
automatica 2018 (June 19 to 22) sets new records: more than 46,000 visitors (+7 percent) and 890 exhibitors (+7 percent). New records in attendance,...
read more

June 2018 | Robotics
Meet and greet Service Robots at automatica Demo Park
Interact with the world's leading robots and see them in action at the dedicated Service Robotics Demo Park at automatica 2018. From June 19 to 22 in...
read more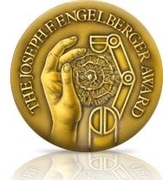 May 2018 | Robotics
Gudrun Litzenberger (IFR) and Esben Østergaard (Universal Robots) recipients of the Engelberger Robotics Awards
On May 23, 2018, the Robotic Industries Association (RIA), the industry's trade organization in the U.S., announced the winners of the 2018 Engelberger...
read more